Lodge Brothers funeral plans Ham go all out with their window dressing over special occasions, particularly over the Christmas season. Lodge Brothers funeral directors Ham enjoy dressing their windows with different displays really getting into the holiday season. Have a look at what other Lodge Brothers have been setting up over December.
REMEMBERING AT CHRISTMAS
December 8th, 2017
Each year, all Lodge Brothers branches put up a 'Memory Tree', allowing people the opportunity to write a card to remember a loved one who has passed away. In Windsor, branch arranger Jill Palmer went one stage further and called on some local school children to help decorate her tree, and then last Sunday, she invited a local Minister to bless the tree in a short service at the branch in St Leonard's Road.
Invitations were sent to those families who Jill had met throughout 2017, and no less than 28 people turned up to the service!
"It was a very meaningful time to those who came along," Jill said, "and we stayed afterwards to chat over a mince pie and a drink. It was a special occasion".
This year there was great fun had in Lightwater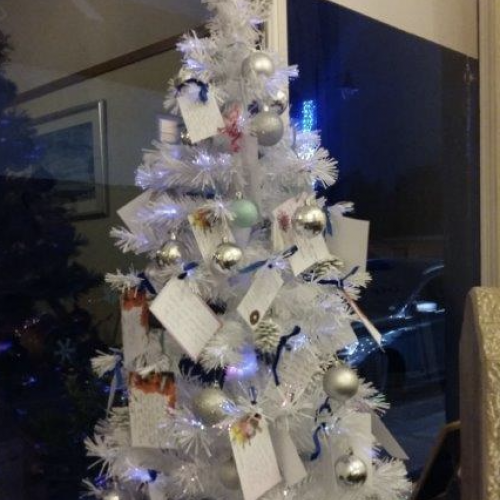 LIGHTWATER IN LIGHTS
November 30th, 2017
Each year the village of Lightwater comes together to celebrate Christmas with 'The Fayre in the Square' in early December. The week before, the lights are switched on, and Lodge Brothers Funeral Directors have their part to play. Situated in The Square for a year now, Lodge Brothers staff have proved they are not just there for the 'sad days in life'.
Richard Leachman, District Manager, said: "The spider-web effect of the lights this year is quite stunning. I am pleased that we can again be a part of the lighting-up of the village".